US Court of Appeals for the District of Columbia rules that decision by the Secretary of State to maintain the MEK on the FTO list violated due process and lacked sufficient evidence. Court remands the case to the Secretary for a review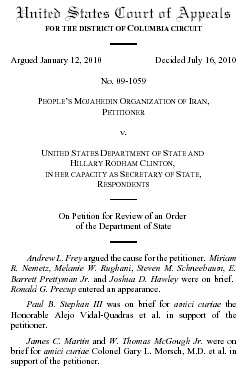 On July 16, 2010, the United States Court of Appeals for the District of Columbia issued its judgment, describing the decision by then-Secretary of State Condoleezza Rice, to maintain the MEK in the list of Foreign Terrorist Organizations (FTO), as lacking sufficient evidence, violating the due process and unlawful. It remanded the case to the Secretary of State and instructed her to review her decision according to the procedures specified by the court.  (Click here for the Court of Appeals' opinion.)
In its opinion, the court said, "[w]e recognize that a strict and immediate application of the principles of law which we have set forth herein could be taken to require a revocation of the designation [] before us [,but]… we also recognize the realities of the foreign policy and national security concerns asserted by the Secretary in support of the designation." We thus… remand with instructions to the Secretary to provide the PMOI the opportunity to review and rebut the unclassified portions of the record on which she relied."
The legal and logical conclusion of this judgment requires the Secretary of State to revoke the terrorist designation of the PMOI and remove all its adverse consequences without any delay. From this point on, maintaining the PMOI on the list would be a brazen defiance of law and the judgment of the court of appeals.
During the court proceedings, several members of the House of Representatives, 260 lawmakers from Europe, 100 members of the British Parliament, a number of US military officers who had previously served in Camp Ashraf and 15 Iranian-American communities submitted well-documented amicus briefs to the court, demanding the removal of the PMOI from the FTO list.
In their amicus brief to the Court of Appeals for the District of Columbia, members of the House of Representatives had emphasized, "The national security interests of the United States – the most frequent and compelling justification for judicial deference – by themselves suffice to revoke a designation, but not to commence or maintain a designation. There is no statutory warrant, therefore, for the court to rely on national security considerations to defer to the Secretary's designation decision."
Previously, seven judgments by European courts, including Britain's Court of Appeal, presided over by Lord Chief Justice Phillips, and the Court of First Instance of the European Communities, reviewed thousands of pages of classified and unclassified materials and concluded that the terrorist label against the PMOI had been "perverse" and a "mockery" of rule of law in Europe. Accordingly, they ordered the removal of the PMOI form the UK and EU terrorist lists.